Determine Your Skin Type To Pick The Right Products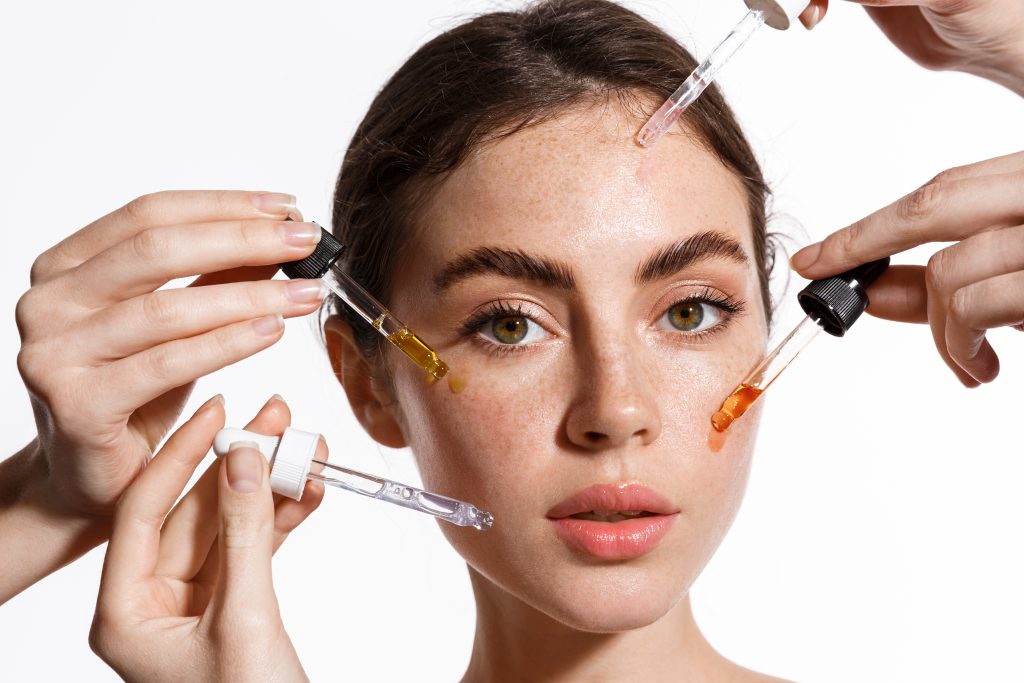 In this guide, we'll walk you through the different skin types and what skin care products your type of skin can benefit from.
Dry Skin:
Dry skin is usually on the cheeks, forehead, and chin, but it can also appear on the body, arms, and legs. If dryness is caused by environmental factors, it can be treated with moisturizing creams like our Phyto Peptipe Facial Moisturizer and serums like our HA-Pro Hydra Lift Serum that delivers intense 24 hours moisture plus antioxidant protection from premature aging. You can also try Skin Loft's Hydra-firm gel mask which you can use daily on face and neck which leaves your skin so soft and moisturized. Mask can be used for 20 minutes before rinsing or for best moisturizing result, leave it on overnight. And for hydration and sun protection, we strongly suggest using one of our Sunscreen protection (you can choose between tinted or no tint), HA Physical Tinted SPF 44 that leaves your skin hydrated with a dewy glow, and our new SPF product best for all skin types, Radiance Protection SPF 40 which hydrates, soothes, and protects from UVA/UVB rays, blue light and pollution while leaving you with a dewy radiance.
Normal Skin:
Normal skin is neither greasy nor dry; it has a healthy glow because of its high moisture level. This means it contains large amounts of natural oils such as ceramides and cholesterol esters that protect skin cells from damage caused by pollution or sun exposure.  You can continue to maintain this skin type with a great clarifying cleanser to keep your skin clean. And to keep your skin looking fresh and radiant, use Skin Loft's Revitalizing Facial pads 3-4 times a week to promote exfoliation of surface skin cells and stimulate cellular turnover. Nothing can make the skin looking dull and tired, more than layers of dead skin cells. And for overall all improved skin complexion by correcting hyperpigmentation and uneven skin try our popular serum, Vita CE serum with Ferulic acid that provides superior antioxidant protection from sun damage and other environmental factors. This anti-aging serum, guarantees to brighten your skin and give it that glow. And while normal skin is balanced in moisture and hydration and less prone to sensitivity and blemishes, that is not to say you can go unprotected when getting sun exposure. Make it a daily habit to apply sunscreen even if you are planning to stay indoors as UVA radiation can still seep through glass windows. Check out Skin Loft's Radiance Protection SPF 40 for maximum protection while keeping your skin looking radiant.
Oily Skin and Acne Prone Skin
Oily skin is the most common skin type and is characterized by excess oil production that clogs pores and leads to breakouts. If you have oily skin, opt for products that help mattify your complexion. This will help keep oil at bay and allow your pores to breathe.
Start with a great cleanser, try Skin Loft's Clarifying Cleanser that contains 2% salicylic acid that helps unplug blocked skin pores. Another product oily skin could really benefit from are skin loft's exfoliating pads, revitalizing facial pads, which helps remove dead skin cells that trap bacteria and clog pores. Use this 3-4 times a week or as needed.  Another popular Skin Loft skin product, Purifying Mint Mask, featuring Sulfur, helps control excess oil. This minty mask soothes and feels great on skin. And for sun protection, our light and non-greasy sunscreen, Radiance Protection SPF 40, is perfect for this skin type. And for added protection throughout the day, try Phyto-C Peptide Spray, it refreshes and hydrates skin without the grease while it helping prevent photoaging caused by UVA and UVB rays.
And for a fast acting acne treatment and blemish clearing formula, always keep Rapid Acne Spot Corrector, a nighttime target treatment with sulfur, salicylic acid and camphor that helps reduce swelling and redness in breakouts. This spot corrector works in giving quick relief from acne breakouts while you sleep.
Combination Skin
Combination skin combines characteristics of both normal and oily skin types. This type of skin tends to be dry and flaky, but it can also be prone to acne and other blemishes due to the presence of excess oil and large pores near the T-zone.
For a deep cleanse without leaving the skin dry, Skin Loft's Clarifying Cleanser. For moisturizer, our lightweight, oil-free HA Balance Pore Refining moisturizer effectively hydrates combination skin without leaving the skin feeling greasy. It also has super antioxidants like Green Tea and Acai to protect skin against sun damage and free radicals. It also has Niacinamide that helps reduce enlarged pores and improve uneven skin tone. Using a chemical exfoliator, revitalizing facial pads, can also help unclog pores from dead skin cells that can cause breakouts especially in the T-zone. Use it 3-4 times a week or as needed. Other Products that are good for this skin type are Vita CE serum , Purifying Mint Mask, Phyto-C Peptide Spray, and Radiance Protection SPF 40.
Rejuvenate Your Skin at Skin Loft
Skin Loft is a New York-based med spa that has a diverse collection of high-quality and affordable skincare products and also provides various signature rejuvenating treatments, skin resurfacing services like ResurFX as well under-eye fillers, Botox, chemical peels, and more.
For more details, feel free to reach out today!
---