Everything You Need to Know About HydraFacial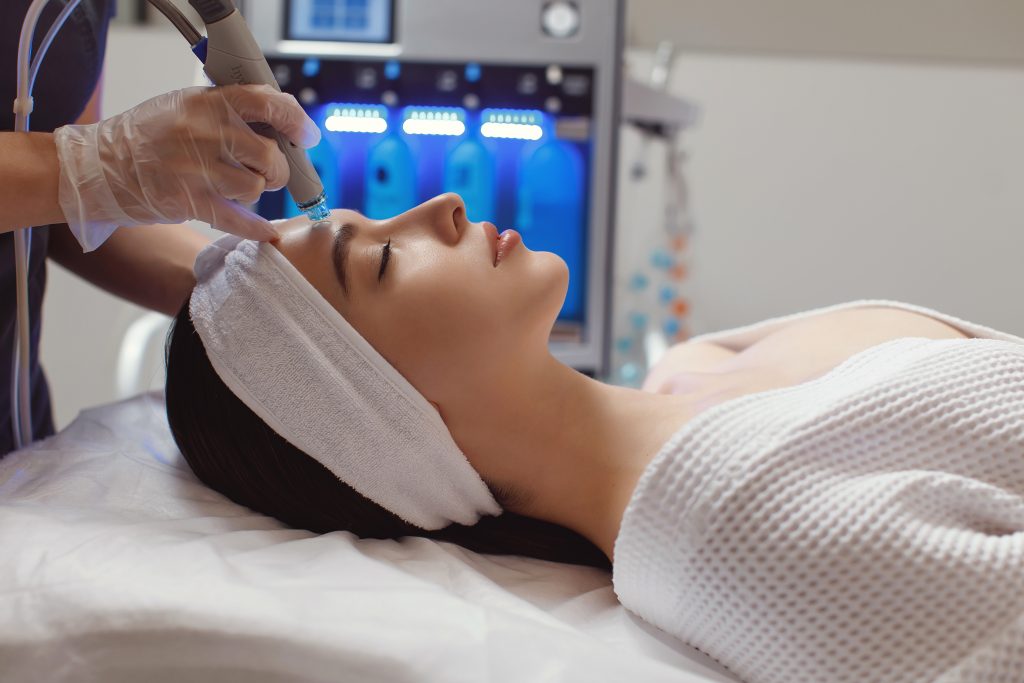 Wake Up Thirsty Skin!
There is no perfect time to follow a skincare routine. It is essential all year round, but New York City's winter season brings cold, dry air, which is, of course, seriously bad for the skin. Cold air tightens pores and reduces blood circulation, and when combined with lower humidity, these effects might result in a dry, dull complexion that can make anybody feel insecure.
Solution? The ever-popular HydraFacial. The word itself says HYDRATE!
According to Allure, an American women's magazine focused on beauty, "Every 15 seconds, a HydraFacial is performed somewhere in the world." Don't even try to calculate: that's over 2 million facials worldwide.
It has become the go-to facial for every relative, friend, and coworker because it addresses several of the most common skincare issues with little to no adverse effects.
It's causing a stir among the public. Should you go for it? Is it really as good as it sounds, or simply just another over-hyped and over-priced cosmetic treatment?
You're in the right place if you're wondering if a HydraFacial is worth the hype. Keep reading to discover more about its benefits, price, and side effects.
What Is a HydraFacial, and How Does it Work?
HydraFacial is one of the newest facial treatments on the market. It is a four-step procedure beginning with exfoliation and cleansing—followed by extraction and hydration. This revolutionary and renewing method uses a vortex spinning approach to offer hydration while eliminating dead skin, grime, debris, and pollutants.
HydraFacial combines four different facial treatments into one. The cleansing process is completed with a light chemical peel after the professionals utilize a vacuum suction device to eliminate any impurities, and the entire treatment is finished with a moisturizing serum. These stages are developed to provide a unique facial treatment experience, with each treatment varying depending on the issues you are dealing with.
Is HydraFacial Worth the Hype?
HydraFacial is undoubtedly more powerful than a regular facial, yet it is gentler than microdermabrasion. It's a well-balanced skincare regimen that makes use of advanced technology and focuses on the three pillars of healthy skincare: cleaning, exfoliating, and moisturizing. Its outstanding results are obtained using a device with a revolutionary tip that simultaneously eliminates pollutants from your skin while also delivering nutrient-infused hydration.
What are the Benefits of HydraFacial?
HydraFacial is quickly becoming a trend that everyone is talking about. The benefits of HydraFacial treatments are quite impressive. The procedure has swiftly grown in popularity as one of the most popular facial treatments. Here are some reasons why most people prefer HydraFacial as a part of their skincare routine.
It provides moisturized, bright, plump, and clean skin.
It offers a gentle yet effective treatment to help rosacea.
Aids in the reduction of signs of aging.
Fine lines and wrinkles are smoothed out.
Firmness is improved, while the tone, texture, and brown spots are evened out.
Exfoliating and extraction methods reduce blackheads and remove any dead skin cells.
The deep exfoliation process removes pore-clogging skin cells, which minimizes enlarged pores.
Hydrating the skin helps to calm any acne, which in turn helps to reduce it.
A HydraFacial is much more than a facial. It meets most of your skin's concerns and provides visible results. It's not every day that a skincare technique becomes everyone's favorite, but HydraFacial has definitely secured a position in the skincare market.
Who Should Get a HydraFacial?
The HydraFacial is a three-step facial that thoroughly cleans, exfoliates, and hydrates your skin. This professional facial is suited for all skin tones and has no downtime. It gives visible results, allowing anyone with any skin tone, skin type, or condition to be a good candidate for HydraFacial. Whatever your worries, HydraFacial is a fantastic facial treatment.
How Much a HydraFacial Costs?
The HydraFacial typically costs $200–$350 for each treatment, with sessions ranging from thirty to ninety minutes: the longer the session, the more expensive it is. Skin Loft's gentle and relaxing procedure removes debris from pores with painless suction and infuses the skin with antioxidants, leaving your skin brighter and well-nourished—all of this for $179. The session is 30 minutes long. Feel the difference with HydraFacial at Skin Loft medical spa today!
How Long Does HydraFacial Last?
After only one treatment at Skin Loft, many clients see visible skin refinement and an even, luminous skin tone. The hydration and smoothness of the effects may remain for five to seven days or even longer. Since we don't believe in rapid cures, we recommend one treatment per month for fine lines, wrinkles, dark spots, oily, and congested skin. To maintain optimum skin health results, HydraFacial treatments should be done from time to time.
What are the Side Effects of HydraFacial?
Some redness may occur after a HydraFacial treatment, which takes about 30 minutes or less to subside. This is the only negative effect of a HydraFacial. It is minimal and goes away pretty soon. Patients can conceal any redness with makeup after their treatment if needed.
Take the Next Step
Winters in New York City are known for being uncomfortably cold, and they may be hard on your skin too. From the icy blast outside to the drying heat inside, a HydraFacial treatment may help your skin prepare for the season and keep you looking beautiful all year. Skin Loft experts are here to help you fight the cold while providing your skin with the ultimate hydration that it needs.
To start your HydraFacial journey, get in touch with our professionals today. We are located in Midtown Manhattan, NY, close to shopping centers, restaurants, Central Park, and major subway stations. We can't wait for you to try our personalized services to keep your skin looking young, healthy, and vibrant. Your future skin will thank you for it!
---