Quick Fix for My Dull and Lifeless­ Skin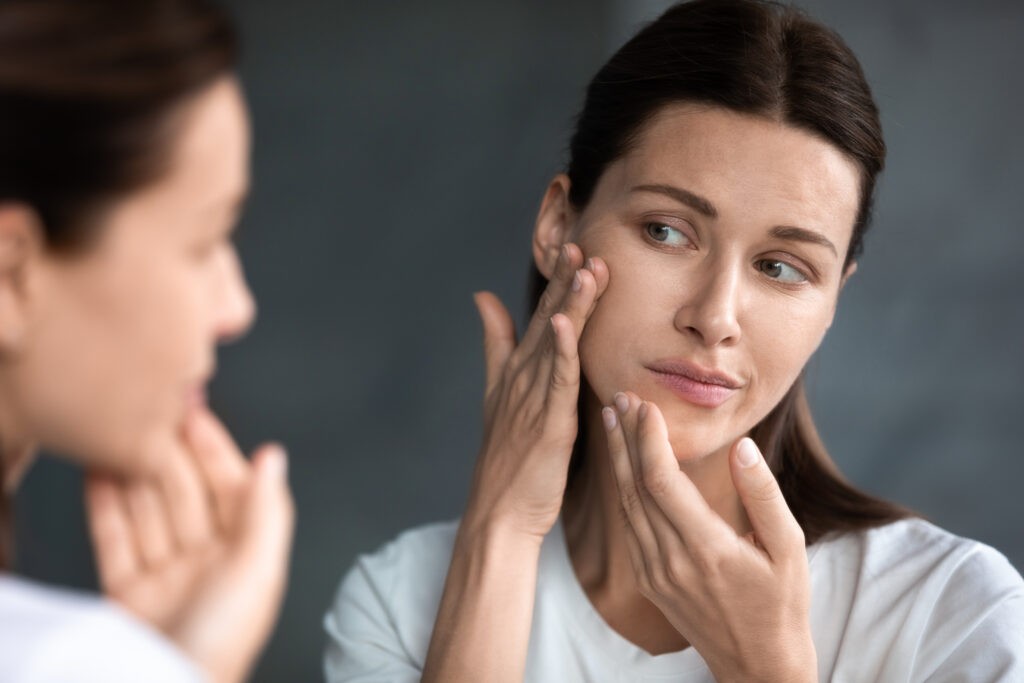 Did you know the most common skin problems can be traced back to a person's skin type? For example, people with oily, acne-prone skin are more likely to have breakouts, while those with dry or aged skin may see wrinkles develop more prominently. On the other hand, some skin issues are in their own league. One of them is dull and lifeless skin.
We've all had bad skin at some point in our lives. A lackluster complexion can be a real bummer, but there are several ways to enhance your skin's brightness and keep your post-summer glow going.
Remember that it is necessary to pinpoint the root of the problem before taking any further action. Skin concerns are unavoidable, but a few lifestyle changes and skincare alterations can change the appearance of dull skin into healthy, glowing skin.
If you have dull skin, it's probably due to various factors. We've listed some of the most common causes below. Not to worry, we've included some quick fixes too.
THE CAUSE: Your body may be hydrated—but not your skin
Is your complexion lacking its natural radiance? Your skin may be dehydrated if it looks like this. It's caused by weather and seasonal changes, a poor diet, and lifestyle choices such as smoking or caffeine consumption. As a result, your skin seems less supple and dehydrated. The most important thing to remember is that dehydration is caused by a lack of water, not oil; even oily skin can get dehydrated. Thankfully, dehydrated skin is a temporary condition that can be cured by a mix of medical spa treatments and a few lifestyle adjustments.
THE FIX: Layer your moisturizer—Invest in OxyGeneo
Unhealthy lifestyle choices can cause premature fine lines and wrinkles. However, dry skin can be prevented or improved by consuming vitamins A, C, D, and E and foods rich in zinc and selenium. Moreover, investing in hydrating ingredients is the most effective technique to retain moisture. Hyaluronic Acid is a powerful hydrator and skin-plumping agent that also helps to diminish the appearance of fine lines and wrinkles. On top of that, invest in OxyGeneo, a 3-in-1 super facial. This unique facial treatment exfoliates and removes old dead skin, encourages collagen production, refreshes and hydrates dull skin, reduces fine lines, and improves overall skin texture and appearance.
THE CAUSE: You Don't Take Out Time for Weekly Exfoliation
Every 30 days or so, your skin sheds its dead skin cells. As a result of this, your skin's surface gets replenished with new cells. Dull, dry, and flaky patches may form if the dead cells are not exfoliated from the surface because the newly regenerated skin keeps hidden beneath, and dead skin cells steal your youthful glow. As we grow older, the rate at which we shed old skin cells and replace them with new ones slows. You may notice that dead skin cells linger for longer on your skin since your body takes longer to replace old skin cells with newer ones. This is why babies' skin is so smooth.
| | |
| --- | --- |
| Age Turnover Cycle | |
| Early 20's | 14-21 Days |
| 20-30 | 28 Days |
| 40-45 | 60 Days |
| 50+ | 60-90 Days |
THE FIX: Exfoliation is the way to a youthful glow
Dead skin build-up, which can occur as early as your 20s depending on your genetics, can be removed with exfoliation. When you exfoliate, you disrupt the molecules that hold dead skin cells together, allowing new cells to emerge and giving your skin a healthy glow. Additionally, exfoliating the skin removes any filth and debris that your cleanser might have missed. Invest in Skin Loft's Signature treatments for a quick fix.
Oxygeneo is a 3-in-1 super facial treatment that exfoliates, oxygenates, and hydrates. Metabolic processes are boosted due to increased oxygenation of the skin's surface. The treatment makes your skin appear younger and healthier.
SL Brightening Laser & Facial Signature Treatment is a 2 step Treatment that combines the powerful benefits of OxyGeneo Facial and Q-switched laser leaving your skin well-nourished, smooth, and glowing. OxyGeneo facials combine non-invasive technology using natural ingredients to help oxygenate, exfoliate, and nourish all skin types. Additional Q- switched lasers help reduce pigments, age spots, and unwanted hair.
THE CAUSE: You're staying out in the sun too often
Skin cell turnover is slowed or stopped when exposed to the sun's damaging rays. This results in dry, uneven skin tone, pimples, and clogged pores. When the skin is damaged by sunlight, the DNA in the cells might be damaged as well. Large freckles or flat dark spots are the most obvious signs of skin damage caused by ultraviolet radiation (UV). Relaxing in the sun may feel good for a while, but it might have long-term adverse effects on your skin health, including skin cancer.
THE FIX: Sunspot Removal Treatment and SUNSCREEN!
Reveal your unfiltered skin confidently without concealing those dark spots that add dullness to the skin with a Sunspot Removal Treatment. The treatment is similar to that of a camera flash, where the dark pigmented patches on your skin are targeted through laser light. But during this time and even after the treatment, it is important to protect the area from sun exposure with the help of sunscreen.
You can buy Skin Loft's HA Physical Tinted SPF44 to protect skin from free radicals found in the environment. Not only does it protect your skin from the harmful rays of the sun, but it also hydrates it due to its Hyaluronic acid content. It also has a nice sheer and very light tint that gives your skin that instant glow and even provides light coverage for a makeup-free look.
THE CAUSE: Your skin is aging
Damage to your skin cells becomes increasingly apparent as you become older. Your skin appears dull and dry due to long-term exposure to the sun's UV rays; bodies become less efficient in delivering important nutrients to the areas where they are most required. Surface renewal ability declines, causing an increase in the build-up of dead skin cells since your body takes longer to replace old skin cells with newer ones, making them appear dull and lifeless. The skin also loses its capacity to bounce back after stretching when elastin fibers break down.
THE FIX: Medical spa treatments
Get Oxygeneo Superfacial and The Pro-Lift at Skin Loft for a quick fix. In addition to Red Algae, which has an anti-aging effect, Caffeic Acid and Retinol are included in the Geno Revive OxyPod to cure the signs of aging and help with skin rejuvenation. On the other hand, the controlled heating of the deep dermis in a non-invasive Pro-Lift procedure stimulates the regeneration of collagen and elastin fibers. If you want to refresh dull skin, reduce fine lines, and improve overall skin texture and appearance, this is by far the best treatment.
Skin Loft, Your Go-To Boutique Medical Spa
Glowy skin is a classic look that will never go out of style. Even so, maintaining a radiant face isn't always simple, and the truth is that your skin may be lacking that so-called glow. We understand that living in a fast-paced city like New York makes this extremely challenging, but not anymore. Our mission at Skin Loft is to assist you in achieving your aesthetic goals. We trust that our signature skin and body treatments will help rejuvenate your skin and positively affect your overall wellbeing.
---