How Does Your Skincare Routine Change With The Weather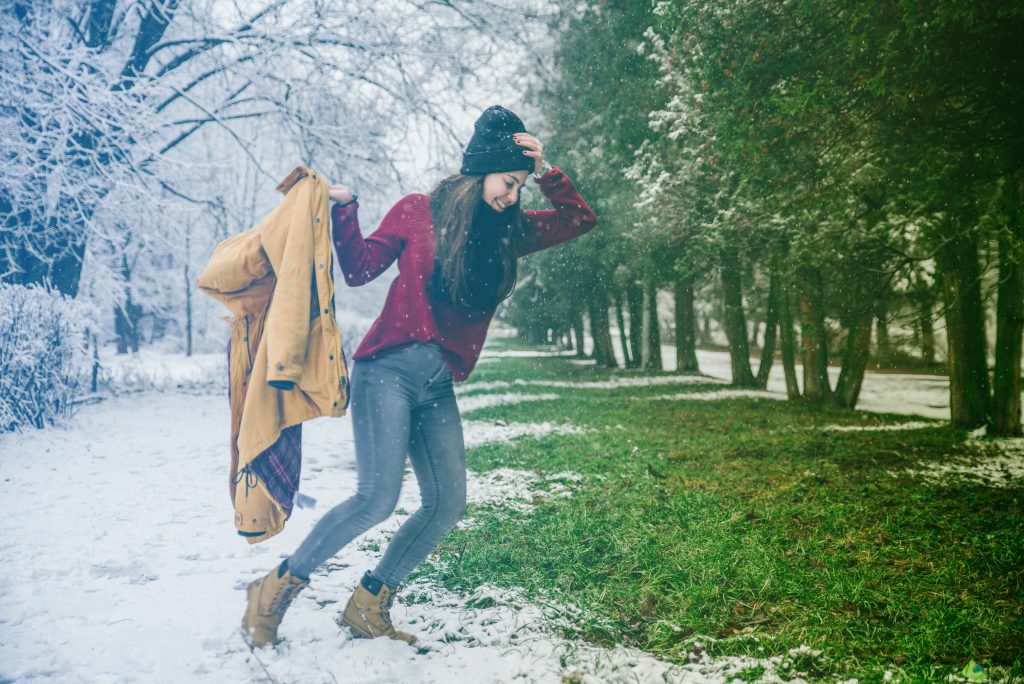 You'd be surprised to find out how drastically your skin can change when the weather changes from hot to cold, cold to hot and dry to wet and vice versa. 
We say this, because hot, muggy nights and humid mornings can cause your skin to become oilier, while scorching heat can cause sun damage. On the other hand, the cold weather can cause your skin to get dry and flaky, requiring regular use of hydrating moisturizers, intensive serums and hydrating facial services.
So, if you're curious to find ways to keep your skin looking at its best all year round, let's first take a look at how your skincare routine changes with the weather. 
Winter Months
With cold air, low humidity levels, dry indoor heat, it's no surprise that our skin can look like it is screaming for moisture leaving our skin looking a lot less radiant, dull and even itchy. Not to mention that this season has us dealing with changes in humidity and temperatures from extreme cold to extreme hot and vice versa as we move from indoors to outdoors and vice versa throughout the day.
If you're looking for ways to combat dryness during winter months, then there a few things you can do to keep your skin nourished and glowing.
Moisturize. Nothing beats a good moisturizer during the harsh and cold winter months. It can replenish the skin with much need moisture, lipids to restore hydration. However, it is not a one-size-fits all especially when it comes to moisturizer. You need to find one that is best for you skin type. A great moisturizer for dry or sensitive skin, may cause someone with oily skin to breakout. And same, a light moisturizer for oily skin may not be enough for the dry skin.
Do not take long hot showers. Everyone wants a warm bath and hot, steamy showers during winter; however, these baths can dry out your skin further during this season. So try to turn down the temperature to just about enough to make it comfortable and take shorter baths or showers.
User a humidifier. Dry indoor heats is great in keeping us warm and cozy indoors, however, it also sucks out the moisture in every room. So to help put the moisture back in the room, choose a good humidifier and run it in the rooms especially the ones you spend the most time in. And as for your heater, try not to crank up the heat too much. Put on socks and sweaters, so you don't need to keep the temperature too high taking out all the needed moisture in the air.
Professional Facials. Your skin will really thank you if you invest in a soothing and hydrating Hydrafacial at least every 3-4 weeks during this season. Aside from cleansing your skin and uncovering a new layer of skin with gentle exfoliation, this popular facial also nourishes your skin with intense moisturizer that helps quench your winter dry skin. You can also customize your Hydrafacial treatment by choosing from it's multiple boosts.
Hydrating skin care products: There are multiple skin care products you can use to protect and keep your skin moisturized, healthy and glowing aside from a good moisturizer. We strongly suggest using the Hydra-firm gel mask which is great for daily use. You can even leave it overnight for maximum hydration. Skin Loft's very light and fast absorbing HA-Pro Hydra Lift Serum, also provides intense 24 hour hydration to your skin. And to give you that summer glow during winter months, don't skip Skin Loft's Vita CE Serum AM Therapy which helps brighten your skin while reversing the signs of aging and damaging effects of the sun. And for sun protection, try our HA Physical Tinted SPF 44 and Radiance Protection SPF 40 for sun protection while providing your skin much needed hydration without the greasy feel.
Spring and Fall Months
In the springtime and fall months, temperature are neither too warm nor too cold. However, remember that for spring, your skin may need you to adjust or maintain your skincare routine as it transitions in Spring from the extreme cold to a warmer temperature or for Fall, from the extreme heat to a milder to colder temperature.
If your skin type needed a heavy moisturizer or ointment for moisturizing in the winter, you may want switch it for a lighter but fast absorbing moisturizer in the spring.
Start Exfoliating if you weren't already. Some people especially those with dry skin may had to skip chemical exfoliation during the cold and dry winter months in fear of drying out their skin further. You can use exfoliator pads, Revitalizing Facial pads, 3-4 times away to slough away dead skin cells to brighten your skin. We also highly recommend our chemical peels, VI Peels, to kickstart your spring skincare routine. It is a safe and quick treatment, suitable for all skin types and skin color and requires minimal downtime, which make it perfect for spring and fall. Another treatment that is best to invest is Microneedling to promote production and achieve younger-looking skin.
Upgrade your SPF and use it daily. Your make up with SPF 15 is not going to cut it during these months. You need to use sunscreens that is has SPF at least 35+ and must offer broad-spectrum protection. Skin Loft offers 2 sunscreens, one is tinted and the other no tint: HA Physical Tinted SPF 44 and Radiance Protection SPF 40 each providing much needed sun protection during these warmer months.
Summer Months
Excessive exposure to the sun can lead to sunspots — the most common cause of hyperpigmentation. It can also cause premature aging to your skin, which results to wrinkles and sagging skin. So must do during summer is apply more sunscreen or SPF than usual. Reapply after every 2-4 hours for continuous sun exposure especially when you are jumping in the pool or beach. For added protection and hydration, you can also apply Skin Loft's Phyto-C Peptipe Spray with Vita C. Easy to use and apply whether your indoor or outdoors.
Summer heat also means more sweat, more oil and when debris and bacteria getts mixed with your sweat and oils on your skin, it can clog your pores and this can easily mean breakouts. So a good cleanser is very important especially during this time of the year. Especially for oily to acne prone skin, a cleanser with salicylic acid, Skin Loft's Clarifying Cleanser is really going to be needed to keep your skin from breaking out.
Despite the outdoor air being hot and humid, you may still feel your skin dry and hydrated especially after spending a day in the sun or chemicals from pools. So taking a shower at the end of the day or after getting out of the pool is a must, followed by a light, oil free moisturizer to end with.
While you are limited to what facial treatments you can do during the summer, depending on your amount of sun exposure, there are hydrating and renewing facials you can enjoy during the summer months that will not cause any side effects even during months of sun exposure. Hydrafacial and superfacial, OxyGeneo are great facials to keep your skin healthy and glowing radiantly.
Get The Ultimate Skin Rejuvenation Treatment in NYC
The weather and elements can affect your skin whether it's the sun, wind, or rain. And so your routine may need to change accordingly in order to to give your skin what it needs and keep your skin healthy throughout the months.
Skin Loft is a medical spa in Midtown Manhattan, New York that offers high quality skin care products that have been carefully selected to provide our clients the home skin care they need as well as skin rejuvenating treatments to help combat skin aging and other skin concerns.  
---