Laser Hair Removal: How Does It Work, And How Many Sessions Do I Need?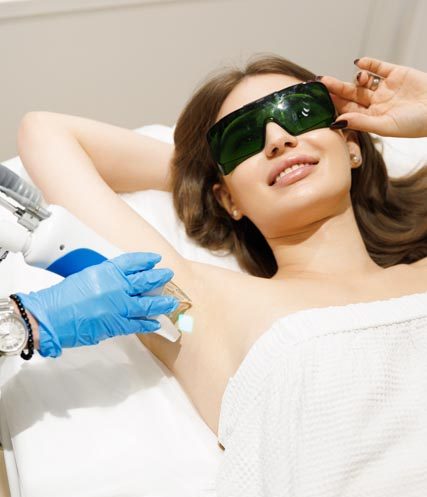 The problem with tweezing, shaving, and waxing is that they don't remove the hair permanently and are a repetitive process. They take a toll on the skin, and some methods even increase ingrown hair and bumps. Not to mention, many people don't get the results they want. Luckily, there is now a long-term solution that doesn't harm the skin and improves skin quality – laser hair removal.
Many people are switching to this treatment instead of other forms of hair removal, which has led to an 18.4% CAGR in the laser hair removal industry. But how does it work? And how long will it take to see results?
Understanding The Procedure
In a laser hair removal process, a professional will use a machine to emit pulses of concentrated light into the hair follicle. The follicle pigment absorbs the light and destroys the hair. The light transforms into heat which targets the follicle, damages it, and prevents or slows down hair growth. The treatment is effective for the face, arms, legs, back, underarms, and bikini line.
It's important to avoid tanning beds and sun exposure leading up to treatment. Artificially and naturally tanned skin may increase the risks of burns. It would help if you also shaved the area two to three days before because the treatment doesn't work on hair longer than a grain of rice.
After the treatment, avoid other hair removal procedures like waxing, plucking, and tweezing. There's minimal pain in the treatment which can vary depending on the person's pain tolerance. Any pain or discomfort during treatment is reduced by contact cooling and if necessary, topical anaesthetic.
Types of Laser Hair Removal
You might have been curious about laser hair removal machines since at-home machines are rising in popularity. There's currently no concrete evidence to support that at-home laser machine works, but there are some professional laser treatments with proven results:
Alexandrite Laser Treatment
It's common laser treatment and covers large areas in little time. The downside of this treatment is that it's more painful. It has a shorter wavelength of 755nm and targets light to olive skin tones.
Nd:YAG Laser Treatment
This laser treatment offers numerous hair and tattoo removal advantages and corrects sun damage. It operates at a wavelength of 1064nm.
SPLENDOR X Laser Treatment
The SPLENDOR X laser combines Alexandrite and Nd:YAG wavelengths to precisely target follicles in less time. It has a unique square shape that treats every inch of skin as it works on removing the hair. This laser hair removal treatment does more than permanently remove the hair from your body; it keeps you comfortable during the treatment. It's ideal for all skin types, even tan skin. Since this system uses Alexandrite and Nd:YAG wavelengths, a reliable laser hair removal professional will customize the settings depending on skin type and color.
How Long Does the Treatment Need?
Every person is different. On average, it will take six to ten sessions sessions for permanent results. But the results are visible even after one session with the right laser treatment. At every appointment, it will be more apparent that hair growth is slowing down. For a more accurate assessment, you should consult a professional.
Many people don't like visible hair nor the feel of it. Now, you can feel confident in your body with just a few laser hair removal treatments. If you're looking for laser hair removal in New York, Skin Loft offers a SPLENDOR X Laser that removes hair and treats your skin at the same time. Our skin rejuvenating treatments like Hydrafacial, Chemical peels, and microneedling will make you fall in love with your skin again!
Check out the SL signature treatments, or contact us to find the right treatment for your skin type!
---