Laser Genesis, also known as Laser Facial, is a non-invasive technique that uses laser light to heat up the dermis without damaging the top layers of the skin. The laser's sustained and controlled heat stimulates the regeneration of collagen which helps smooth the skin texture, reduces  pore size, evens skin tone, reduces the appearance of fine lines and wrinkles.  It also helps prevent acne breakout by killing bacteria and by breaking down oil and dirt. The overall treatment is gentle to the skin and in fact, very relaxing.
Why Laser Facials?
A gentle and relaxing treatment that visibly improves:
Uneven skin tone
Rough and dull skin textures
Fine Lines
Pore Size
Age Spots and Sun Damage
Mild and Propionibacterium Acne
Acne
Rosacea Redness
The Treatment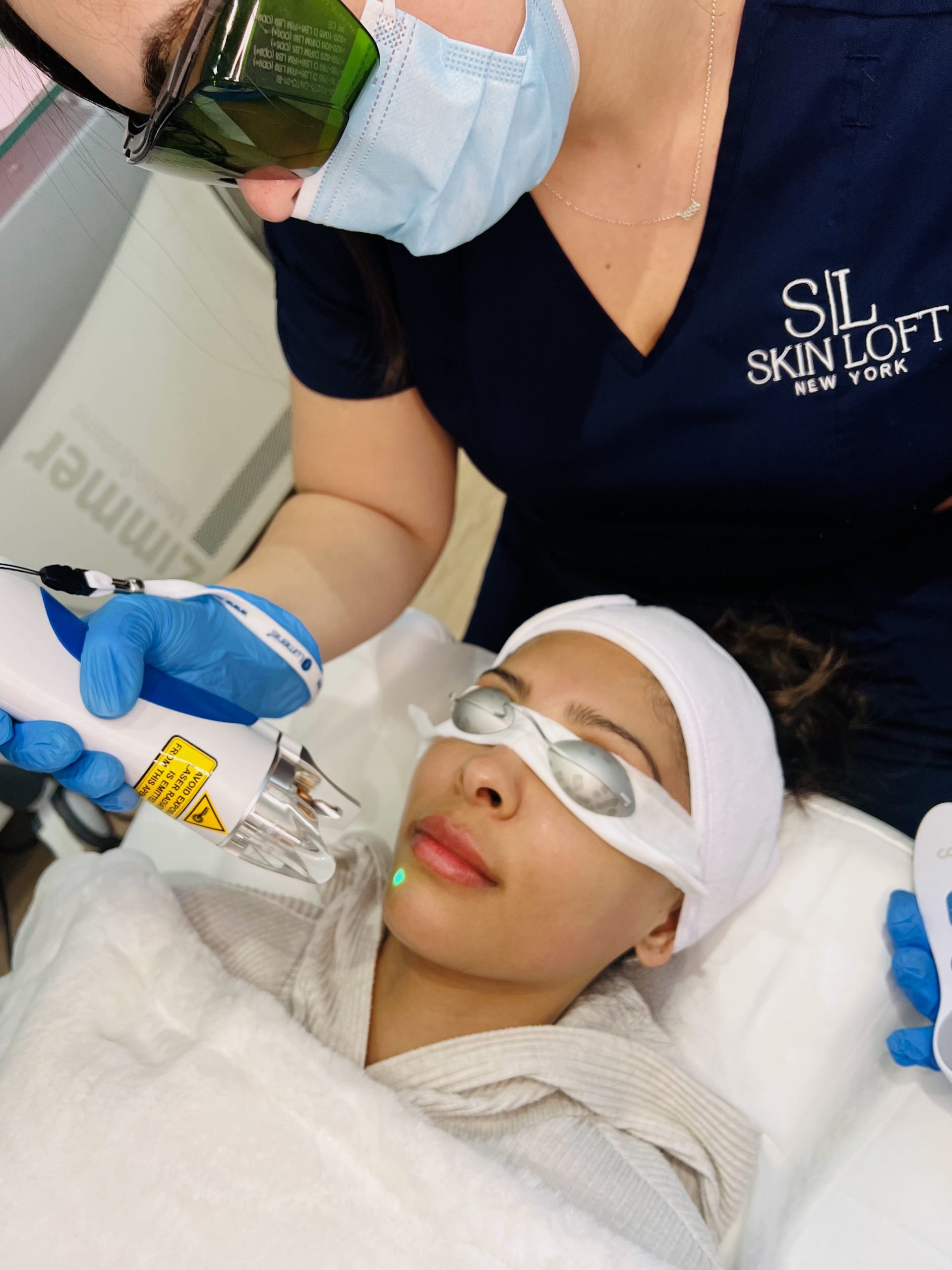 The basic premise of this therapy is to raise the skin's temperature to appropriate level to get the desired therapeutic impact. Acne bacteria are killed by multiple short laser pulses delivered at a specific temperature, tightening pores and brightening hyperpigmentation. Multiple short laser pulses delivered and maintained at a specific temperature help stimulate collagen regrowth that effectively tightens pores, reduces inflammation caused by rosacea, and reduces oil production.
Depending on the skin condition, the process takes 30-45 minutes. A nice and calming laser pulse generates a warm feeling on the face that nearly feels like a soft sun on a beautiful day, creating a pleasant and relaxing experience. Various skin disorders may be addressed with this relaxing facial suitable for all skin types.
The Benefits
Since it only takes 30 minutes, Laser Facial is regarded as one of the finest lunchtime cosmetic treatments available, allowing patients to walk out with better-looking skin. With this treatment the dermis is gently heated, eliminating any diffuse redness, making it an excellent, option for individuals who suffer from rosacea. It also increases collagen formation, which helps to reduce the appearance of fine lines and wrinkles while also providing a radiant shine to the skin.
The Result
The skin will feel smooth and well-hydrated and glowing after the session. New collagen and healthy skin cells should begin to appear 2 weeks following the treatment, and you should notice a difference in your skin. Avoid direct sunlight for two weeks and reapply sunscreen regularly throughout this period. The majority of clients choose laser facial as their all-in-one skincare therapy; however, some skin issues such as rosacea and acne and dull, dry, and wrinkled skin may benefit more from a series of three to six sessions spaced between two and four weeks apart.
Is It Right For Me?

Laser Facial may benefit practically any patient who wishes to treat rosacea redness, fine lines, pore size, age spots, sun damage, and overall skin appearance. It is a safe and effective procedure for all skin types who are looking for a well maintained, well rejuvenated skin.
---