OxyGeneo SuperFacial Treatment
OxyGeneo facial is a new 3-in-1 Superfacial that exfoliates and rejuvenates the skin.  It helps in removing the dead skin cells from the surface, improves the oxygen level of the skin, and infuses valuable products that help enrich the skin and prevent other skin issues. It has all the benefits of microdermabrasion and facial rejuvenation that optimizes the skin and enables it to absorb more nutrients and valuable products, to make the skin look healthier.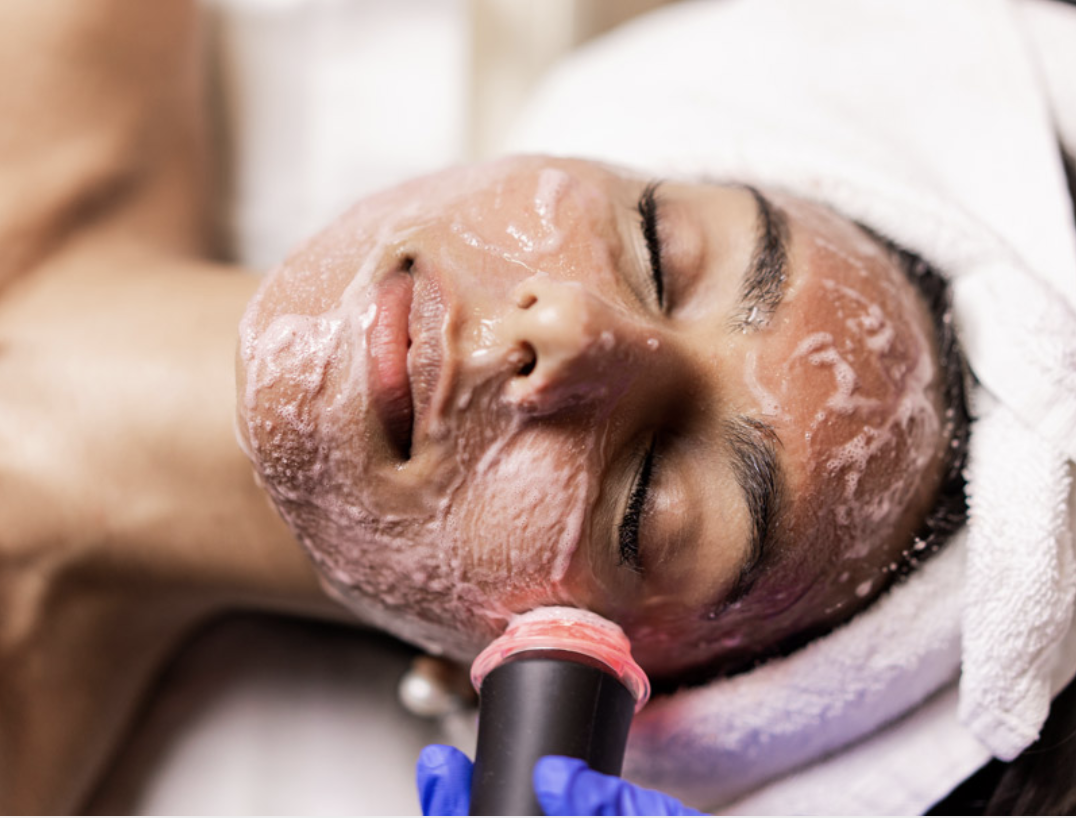 Why OxyGeneo?
OxyGeneo, also referred to as 3-in-1 super facial, is a popular treatment because it works. The treatment results in immediate beautification and fresher–looking skin. The treatment improves the skin through long-term improved micro-circulation. It helps in reducing aging and other skin diseases.
BENEFITS
Smoother texture
Tighter skin
Wrinkle reduction
Lighter complexion
Restored hydration
Healthy glow
Reduced pigmentation
Alleviated irritation
OXYPODS
OxyGeneoTM has got you covered with unique treatments targeting the specific needs of your skin.
How Does it Work?

There are 3 steps involved in this treatment:
Exfoliate: In the first step, the OxyGeneoTM exfoliates the skin by removing the upper dead skin cell layer, opening the clogged pores, and smoothing out the skin. This is done by generating an abundance of CO2 bubbles that causes the psychological response, known as the Bohr Effect, on the upper skin layer.
Oxygenate: Due to the Bohr Effect, the skin sends rich O2 blood to the skin to replace the abundant amount of CO2. This, in turn, oxygenates the skin and increases cellular activity.
Infuse: At the same time, OxyGeneoTM also infuses the skin with selective active ingredients, vitamins, and other valuable products to enrich the skin and promote a healthier complexion.
The Treatment
The treatment takes around 34-40 minutes.
A large pen-like tool is used to exfoliate the skin.
Then, a nutrient-rich gel is applied with the OxyGeneo tool for skin boosters.
The OxyGeneo device creates carbon dioxide bubbles that burst gently on the skin, blood rich in oxygen to rush to the surface.
The treatment can be done as a stand-alone or combined with other treatments.
When Will I See Results?
You can see the results immediately after the first treatment. For better results, you can also take more than one session. The radiant glow, the smooth texture, and the fresh look are instantly visible. Treatments once a month are recommended for long-term anti-aging maintenance.
What Can I Expect After Treatment?
OxyGeneo treatment has zero downtime. Thus you don't have to invest much in aftercare. Your skin might feel irritating and itchy initially, but the effects wear off quickly. Moreover, you can also continue with your usual skincare routine after treatment. Sunscreen is recommended.
Is It Right For Me?
OxyGeneo is a safe procedure that is suitable for all skin types. It is formulated to keep skin allergies in mind; thus, the risks are minimal. But we still recommend consulting an aesthetician before opting for OxyGeneo facial.
---